hey i have a new journal, people. if you're close to me and want to read it, add me back or add me. :P
I miss chelsea instant messages. *sniff, cries*


So I start tomorrow, and have to wear a TIE. which is strange as hell to me. ties are man things. haha. i'll get used to it, i suppose, but i feel so dorky in it. not to mention, it is totally against my body type rules to have my shirt buttoned up that far. sigh. (chelsea will most likely get a laugh from that.)

Anyway, I'm excited. I love waitressing, and I'm good at it. And God knows we need the money. sheesh. Here I come, Jamie! lol.
I got the job at the Sandstone, after what seemed like years of waiting. They certainly take their good old time getting back to you. I finally called and said, "you know what, if he can't call me back by this week, I'm looking somewhere else." They called me the next day. lol.


Someone brought up clubbing, so I called Fili and asked if I could go. He's like sure, babes, go ahead. So I sat there and waited for the rest of the girls to fight it out with their significant others about going--I love my man. He's totally the best--and then we all piled in the car and went to athens. Went to The Red Brick and we tried pretty hard to find a stripper. We made napkin signs--"will work for stripper", etc--but no dice. No one met our regulations. Couldn't find one who could butt shimmy. Katy got wasted and danced on the table in her little white skirt. Which was lovely, by the way, 'cause the whole bar found out she had a purple thong on. haha.

So we left there after they started playing oldies like twist and shout, and hopped over to a dance club. Fili calls my cell, "Hon, i took the van today, so i don't have keys to the house." shoot. so home i went, haha.

But it was fun. Fili said I should get out like that with the girls at least twice a month, and he'd do the same. I agreed with that. obviously, who wouldn't? sooooo, chels, we have to hit a dance club for sure. Maybe Evolution or that salsa place, but we'd have to learn salsa first. lmao.
Katy's bachelorette party was, quite frankly, fun as hell. It was in the Plains, which I didn't even realize was a town. She had to pick the panties we bought for her from a pile, if she guessed wrong she had to drink a jello shot. We played toss the ring around the penis--a glow-in-the-dark penis, mind you-- and if you missed . . . you guessed it, jello shot. There was a fire truck pinata full of candy, condoms, and female enhancer cream (haha, yeah). Jess brought up the fact that I bellydanced, and turns out there were some girls there who did it too, so we had a good time with that. haha.




I have a lot of siblings. But Jess is the one I've been side by side with for all but two years of my life.

Jess has taught me to hold my heart sacred and protected. She has been through some of the worst years I think a person can ever go through. Yet her heart remains intact. She has taught me that you can rise above the pain and be a better person. Any strength I have comes from her. I raised her, in a way, yet she taught me many more things. She taught me to stand up for myself, to fight for my life. She taught me to survive. She showed me that pain is no excuse to feel sorry for yourself, and that trauma can be overcome simply by taking the bad things from your heart and throwing them away. She tells me I have been her rock, the one who got her through those years.

But I think to myself, when she says this to me . . . maybe I was your rock. But you saved my life. And I will never forget that it was your strength that pushed me forward.
*What is the biggest thing you have learned from a sibling?*



Name your friends. What drew you to become friends with them?


I decided to only put my friends that read this. lol.



1. Cynthia

This girl has been my rock and the truest friend possible for years. Every hard time I have had, she has been there to push me out of the hole I fell into. She's compassionate, and loyal, and I have never heard in all these years that she has spoken a bad word about me at all. Plus she's hot. haha.


2. Chelsea

I love her honesty. I love her drive. She has accomplished what most people of our age will accomplish in their thirties. What drew me to her, I suppose, was her love for fun and . . . the sarcasm. I love the sarcasm. She's loyal to her friends and down to earth and not petty. Plus she's hot.

3. Jamie

So I haven't known Jamie long, but the thing that drew me to her was her heart. It wouldn't matter if she was the most hideous thing in the world, everyone would love her because she's just so damn nice. (Not that she's hideous. On the contrary, she's incredibly beautiful. Yessss, I said incredibly beautiful, Jam. I will not negotiate that, so shush.) I admire her forgiving qualities and her ability to say only nice things about people. And she's very self-disciplined, which is awesome. Plus she's hot.

*NOTE: can you tell i think all my friends are hot??


4. Lovely Luna

I don't know her too well, either, but I know I love her already. Random cute kitty generators, amazing granola recipes . . . . she is the total package, haha, and I love her posts. I love her confidence and her experience, 'cause it helps me. haha. She's just an amazing chic. Plus she's hot, too.


That's all for now. Watch, I've forgotten someone and they will come to kill me in my sleep now. :P
Chelsea has inspired me to write about something other than random life and ranting. I went to one of her links, and it is PACKED with journaling prompts that it was so hard to just pick one, but . . . I chose this one:
used:
MAC goldenaire pigment
MAC blu noir e/s
MAC fairylite pigment
blacktrack f/l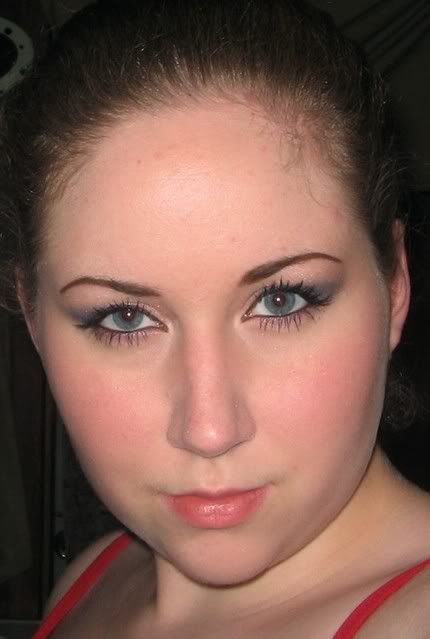 is that cute, or is that cute? woot!
so i believe i have found my favorite eyeshadow combo of the moment. is this purty or is this purty????


i'm happy for jess. The house she is renting now is disgusting. Fred Hawk is the landlord and, while a very nice guy, he never keeps up his properties and they are dangerous and dirty. so we were in a hurry to find her a place before joaquin starts crawling and has to go on that nasty carpet . . . ew. the place she's leasing is actually a few houses away from me, just down the street from where we live right now. she's moving into that place, chelsea, that you said . . . lissa??? lived? can't remember. all i know is it's a friend of yours or something. but it's the bigger one on the other end, with three bedrooms. she's just happy because it has a good-sized kitchen and she can start making her cakes again. haha. i miss her cakes.

so june has a ton of birthdays for this family. Pancho, me, fili, fili's brother and sister . . . sheesh. so we've decided to put them all together into one big bash. where and when this bash will be i don't know yet. but i'll post those details when they come. all i know is it's going to be big. and let's all hope it will be in the house fili and i want, where there's tons of space and we can play tunes as loud as we want or play pool in the basement. lol.

jamie busted my ass last night. she was like a little sprite, flitting up and down those huge hills while chels and i puffed waaaay behind her. i swear my calves fell off. haha. (if anyone finds them, let me know. my butt's up there somewhere too . . .) of course it's a bit harder when you're also pushing a stroller with a child in it. jamie took over for a bit and slowed down a little, haha, so the stroller is definitely a workout. that's ok. i need it.

today is pancho's last day at La Cascada. Fili's is next sunday. Good riddance, I say. They are getting pretty upset that neither of them, nor us, are telling them any details about where they are going next or if we're even staying here. for all they know, we'll drop off the face of the earth. but that's fine. i'm not even going to post it in here, because i know it would get back to them somehow. if they find out, they find out, but it will be on our time, not theirs. i'm getting a job, too. with fili's new hours, he can watch mariana on the weekends or after five week days. so babysitters aren't a problem anymore, which is good. i love to work. i want another waitressing job, because that was some good money. thinking about going back to the dutch. i hate the place, personally, but the money was always good because i had the banquet room to myself. i'd walk out of there on the weekends with 200 bucks easy. of course i was only waiting tables of ten or more, though. that helps. haha. hard work, but it pays well.

enough rambling for the moment. i'm off!
We've found a rental that we're extremely interested in. It's up directly across from the brass ring, and it's so great. It has a two car garage, full basement, three bedrooms, room in the yard for a pool, a DISHWASHER, dining room . . . i am so excited. the only catch of this cute little place is that ten other hopefuls are wanting it too. I'm wondering if i should even hope for it, or just start my search for something else . . . i don't know. Jessi, however, had like five people looking at the place she is going to rent, and they gave it to her. so there is hope. haha. we just really need the space, and now that fili will be making more money, we can afford the extras we've always wanted.


You cannot begin to imagine my relief.
Fili is quitting La Cascada. Finally, we have gotten enough resources together for us to move on with our lives and be a normal family. He'll be home every night at five. Weekends off. More money than at the restaurant. And best of all, our lives are ours. No more calls in the middle of the night with more instructions for work. No more bosses stealing our money. It's over.